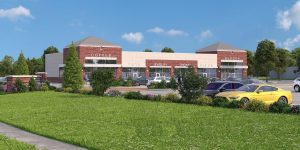 WCRE is proud to have exclusively represented Town Center at Short Hills of Cherry Hill in the lease of a 3,072 SF storefront to RockBox Fitness.
RockBox Fitness is a national franchised fitness center that takes a different and fun approach to aiding in the success of peoples health goals. Short Hills Town Center is the perfect size and location for Rockbox's expansion into the South Jersey Region.
The newly reimagined Short Hills Town Center in Cherry Hill located at 486 Evesham Road in Cherry Hill, New Jersey is excited to welcome RockBox Fitness to join the impressive tenant roster which will include a brand new Starbucks drive thru, Radin's Deli, Classic Cake, and Pizza Twist. These tenants are projected to open in the Winter of 2023.
Short Hills Town Center has +/-1,536 SF of retail space still available for lease.
The leasing of this retail space adds to WCRE's growing number of successful retail transactions in the Southern New Jersey and Philadelphia region.
Eric Flocco, Vice President at WCRE, exclusively represented the owner in this transaction.