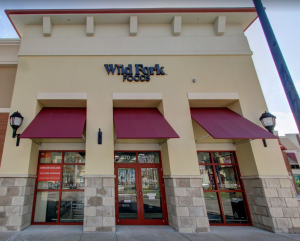 It was a weird site on Haddonfield Road last spring – brand new buildings housing a Trader Joe's, Home Goods, and TJ Maxx being constructed in the shadow of a similarly styled Pier One, which was closing.  Pier One closed last spring and has been empty since then, but MarltonPike.com has learned that Wild Forks Foods will soon call it home!  The former Pier One will be subdivided, with Wild Fork Foods creating a store of 3,543 square feet.
What is Wild Fork Foods?
It doesn't appear there really is a comparison to make here, as it appears that Wild Fork has a unique business model.  "We set out to transform the way we shop for and consume meat.  By controlling every step of the process from farm to fork we ensure you get the highest quality, biggest selection, and most consistent eating experience."
Currently, there are only 8 Wild Fork locations – all in Florida. But the company specializes in 'blast freezing' meat, so consumers around the country can order frozen meat online to be delivered to their door.  What is 'blast freezing'?  Blast freezing is a process of rapidly freezing meat, 10 times faster than the normal freezing process.  Typically, the slow process of freezing meat causes ice crystals to damage the cell walls of food, reducing the quality of meat.  With blast freezing, the rapid process does not allow large ice crystals to form, so when your meat defrosts, the quality of meat is much higher than your typical frozen meat.  At Wild Foods, they blast freeze at -40 degrees to maintain peak freshness.
And what a selection of meat Wild Fork offers!  While it has your typical cuts of beef, pork, chicken, and lamb, it also has specialty meats – alligator, ostrich, yak, duck, bison, elk, venison, veal, rabbit, goat, octopus, calamari…. The list goes on!
The typical store is lined with freezers on the outer walls, with additional freezer cases in the aisles.  It is not like a typical supermarket – you won't find paper products, cat food, or vitamins – just meat and produce.
We will keep you updated as construction commences and let you know an opening date as soon as we find out!  Current schedules show construction is expected to start in late June, with completion in late September.
*Article Courtesy of MarltonPike
For more information about this Cherry Hill retail space or about any other Cherry Hill commercial properties for sale or lease, please contact the team at Wolf Commercial Real Estate, a Cherry Hill commercial real estate broker at 856-857-6300.
Wolf Commercial Real Estate, a full-service CORFAC International brokerage and advisory firm, is a premier Cherry Hill commercial real estate broker that provides a full range of Cherry Hill commercial real estate listings and services related to this retail space.
Wolf Commercial Real Estate also offers property management services, and marketing commercial offices, medical properties, warehouse properties, industrial properties, land properties, retail spaces and other Cherry Hill commercial properties for buyers, tenants, investors and sellers. Please visit our websites for a full listing of Cherry Hill commercial properties for lease or sale through our Cherry Hill commercial real estate brokerage firm.